Ever feel as though something's not quite right about your entryway? Maybe it's hard to see your front door, or your foyer feels bland and uninviting. Whether you've recently moved in or have been settled for many years, here are seven ways to make the entrance to your home more enjoyable for you and your guests.
1. Demand more from your door. Make sure your door is visible and welcoming. Just as the eyes are the windows to the soul, your front door is the face of your home and where first impressions happen. Make sure the entrance to your home is visible and well-lit.
While it may sound silly, some houses have a side entrance or two doors on the front facade, and folks get confused about where to go. A clearly delineated pathway will direct guests to the right place. Seasonal accessories like a wreath, rocking chair or pumpkins will make your home's hospitality shine even more.
Nothing will make your home feel more energetic and comfortable on a beautiful day than a natural breeze. Screen doors are good, but a Dutch door like the one shown here is a great way to invite fresh air into the home while keeping pets or even small kids at bay.
Festively colored doors have long been an exterior staple, but they usually pale on the interior to match neutral woodwork in the rest of the home. Painting the door's interior side a splashy color brings pizazz and is an easy way to add hue in double-height foyers, whose walls are challenging to paint without the aid of a cherry picker.
Or try introducing something unexpected and carefree on your front door. This humorous knocker hangs on a door playfully patterned with a stencil.
Another option is to integrate a decorative cutout in a wooden screen door, such as this lobster.
2. Let there be light. Don't skimp on your foyer lighting. One of those flush-mounted types that look like a dinner plate isn't going to win over anyone. Select a fixture that makes a statement and defines the area, as does this handsome lantern.
A semiflush fixture, like the drum-shaped one shown here, is a good alternative if you don't have enough ceiling clearance for a more substantial pendant.
If you're in the market for a new front door, consider integrating glazing as an opportunity to filter natural daylight into your home. If you want the light but more privacy, choose a textured glass to distort the view.
If you have an old home, you might find sidelights and a transom window around your door hidden behind wall sheathing. The hunt will likely entail some professional carpentry work, but they're considered a treasure when uncovered.  Stained glass is a popular Victorian window detail that offers joyous colored rays of patterned light while providing privacy.
Incorporating a mirror in a small space is an old trick to make the room feel larger, but it also brings in more light. This entryway would look dark and cramped without the mirror.
3. Opt for curvy pieces. Rounded shapes are psychologically more relaxing and comforting than rectilinear ones. In feng shui philosophy, for example, curves are preferred because they facilitate the movement of energy throughout a space. Rounded pieces are also a little safer, so little ones and we clumsy folks aren't as likely to bang into sharp corners.
4. Add texture for natural warmth. Furniture or accessory pieces with texture lend visual interest and make your space feel more hospitable. Natural materials like wood, baskets and fabric are good choices. The bamboo settee and woven pieces here give a homey vibe.
This industrial table base and wood plank top look warm and mellow bathed in natural light.
If your home is more contemporary, and rustic materials like aged wood won't work with your sleek finishes, you can still add texture through other means, such as lighting. The Moooi light fixtures here are made of a resin-coated fiberglass that creates a lacy filigree pattern when lit.
5. Show off your personality.
Your foyer is the perfect place to showcase your interests. A favorite collection, like this homeowner's assemblage of hand planes, is more memorable for guests than a conventional table and lamp. Above all, your foyer should be welcoming and personable.
If space (or your collection) is limited, sprinkle in a few pieces where you can. The antique globes make this foyer seating area more intriguing.
6. Keep it neat. If your foyer lacks a closet — or if closet space is limited — bags, umbrellas and the like will likely pile up and make a muck of your foyer. A free-standing storage bench, like the one shown here, will do double duty by not only organizing your small stuff, but also providing a seat to pull on boots. While this one has pullout drawers for items like gloves and hats, many others have storage under a hinged seat.
Install some beefy wall hooks for hanging scarves, hats, umbrellas and bags.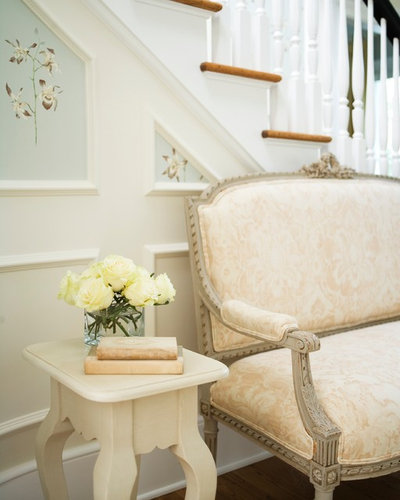 7. Appeal to your senses. Interior design can sometimes rely too heavily on visuals and not fully consider our other senses.
Scent is a powerful memory maker, so a simple bouquet of flowers, a plant or even pretty leaves in a vase of water is always fresh and inviting.
Even if you have a tight entry space, don't think that you have to give up the greenery. This simple arrangement sits atop a heat register cover.
Don't forget sound! Chimes tinkling in the wind on a front porch or the gong of a grandfather clock in a foyer adds depth and a sense of wholeness to your home.
Make sure you try out the piece first to ensure that you find the sound pleasing. For example, some wind chimes sound earthy and comforting, while others can be loud, metallic and irritating.